Every time I think of ballet, I think of dancing. Every time I think of dancing, I think of the song "Tiny Dancer" by Elton John. And every time I think of "Tiny Dancer" I can't help but sing the song in my head but change the lyrics to, "Hold me closer Tony Danza!". Why do I do such a thing? Long story short -years ago a friend started singing the song that way and he told me that from now on the song will forever be ruined because I will always have his messed up lyrics etched into my mind...unfortunately he was right. And now, here I pay it forward so that I'm not alone in my affliction.
But I digress. I'm not here today to talk to you about ruining perfectly good song. I'm here to talk about birthday parties. More specifically, ballerina birthday parties and invitations.
Themed parties are a great way to showcase the things your family enjoys. If your daughter (or son) is into ballet, then throw them a ballerina themed party for their next birthday. Children love to dress up and even though they rarely need an excuse, a ballerina birthday party is a great way to let your kids wear a tutu all day long. Themed parties are also easier to plan for because they allow you to base all your preparations around a central idea instead of trying to throw together a hodge podge of different things. Aside from letting your kids dress up, a few other ideas for a ballet themed party are: bake or purchase a ballet cake or cupcakes, create fun dance games or a contest with prizes, fill the house with ballet themed decorations, and hire a professional dancer to give the kids a fun dance lesson. As you can see, there are a lot of fun ways to create a ballerina themed birthday party.
Invitations are a great way to make your guests feel special and start your birthday party planning off on the right foot. Birthday invitations pass along important information to your guests, such as date, time, theme, and location. They also create a buzz and anticipation before the big event and helps get your guests in the mood for a party. Below are some customizable, beautiful ballerina themed birthday invitations that are sure to get your guests twirling with excitment.
Pink Ballerina Photo Birthday Party Invitations
by
WhimsicalPrintStudio
Check out other Ballerina photo birthday Invitations at
zazzle.com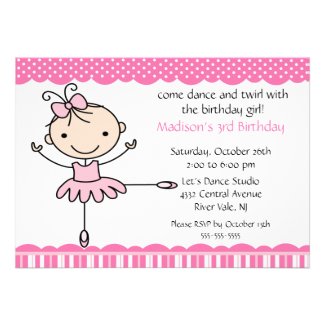 Ballerina Dance Birthday Invitation
by
celebrateitinvites
View other Dance Invitations at
Zazzle.com
Pink Ballerina Birthday Custom Announcements
by
birthdaysweeties
Make your own invitations
online at zazzle.com
Little Ballerina birthday Invitations - version 2
by
WhirlibirdExpress
Look at Children Invitations online at
Zazzle.com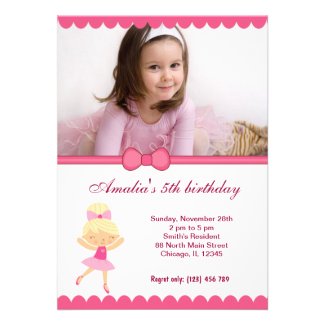 Ballerina Birthday Girl Custom Invites
by
graphicdesign
Make unique
printed invitations
on zazzle.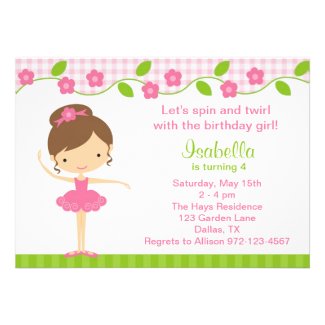 Ballerina Girl Birthday Party Invitations
by
cocoamintprints
Find more Ballerina Invitations at
Zazzle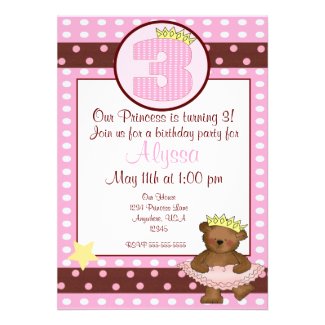 Princess bear girls 3rd birthday invitation
by
mybabytee
Check out more Third birthday Invitations at
Zazzle
Little Ballerina birthday Invitations - version 4
by
WhirlibirdExpress
Find other Children Invitations at
zazzle.com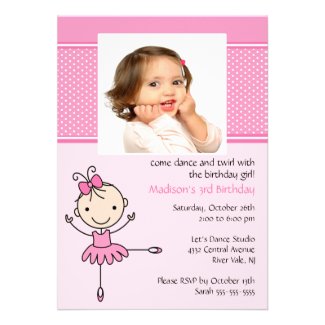 Ballerina Dance Photo Birthday Invitation
by
celebrateitinvites
Design a
personalized invitation
at Zazzle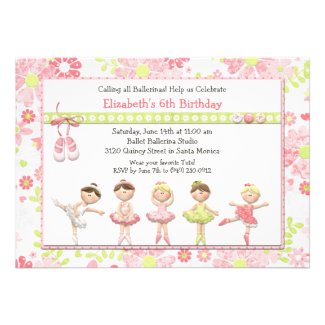 Ballerina Birthday Party Invitation
by
eventfulcards
Create your own
custom invites
at Zazzle.com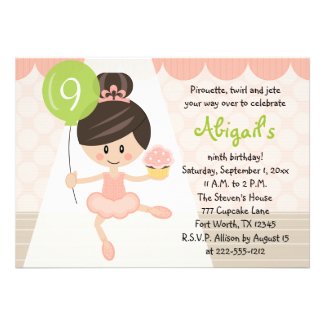 Cupcake Ballerina Birthday Brunette Custom Invitations
by
OccasionInvitations
Browse more Birthday Invitations at
Zazzle