Forget war, forget politics, forget religion, the real division among people is - clowns. Either you love these painted face, small car driving, big shoe wearing, modern jesters or you hate them. I fall on the love side of the fence. But ever wonder why some people hate clowns? Here's where the problem all started. Stephen King took this:
And turned it into this:
But today I'm going to focus on the cute and fun clowns, and let's set aside the evil nightmare clowns for a Halloween post. Most kids love clowns. They juggle, bumble around, tell jokes, make fun balloon animals, and they're dressed up in a wacky way that only children can truly appreciate. That's why a clown themed birthday party is an excellent way to celebrate your child's special day.
There are so many fun things you can do with a clown themed party. Here are just a few great ideas: hire a clown entertainer (or coerce a friend), buy or bake a clown birthday cake, face painting with the kids, dress up like clowns and have a best costume contest, carnival games with prizes, hire a petting zoo, make carnival treats like popcorn or cotton candy, and decorate the party like a circus.
Themed parties are a snap to plan for. With a theme you are able to simplify things and base your decisions around a central idea instead of trying to think of a thousand ways to please your guests and how to tie all your ideas together. Having a theme really takes the headache out of party planning.
The best way to get any party started off in the right direction is with invitations. Sending out invites will make your guests feel special, pass along information (such as time, date, location), as well as, build anticipation and excitement for the big day. Having guests who are already excited about a birthday party before they even arrive is a sure way to add to your party's success. Below are some cute, customizable, Clown birthday party invitations that are sure to impress your guests.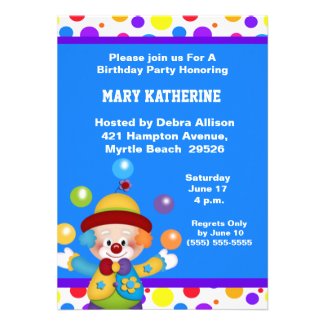 clown Birthday Invitation
by
babyworld
Browse other
Clown Invitations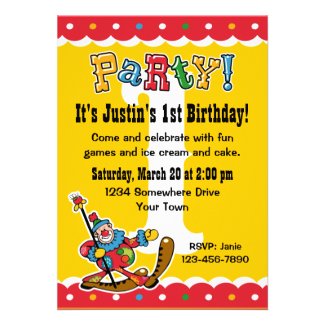 Clown Around 1st Birthday Party Invitations
by
pinkinkart
Check out other 1st birthday Invitations at
zazzle.com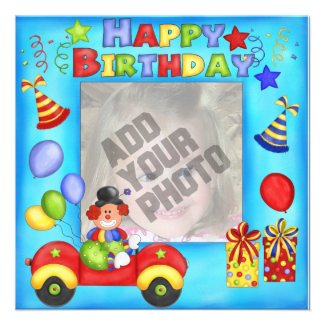 Photo Clown Birthday Card Invite
by
babyworld
Check out more Clown Invitations at
Zazzle
Clowning Around Birthday Invitation
by
mousearte
See more Circus clown birthday party Invitations at
zazzle.com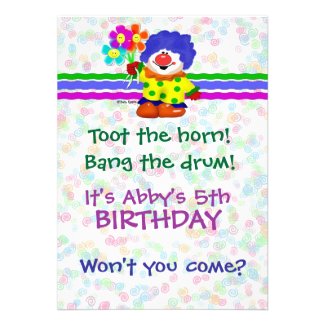 Happy Clown Invitation
by
kidsinvitations
Create an invite
at Zazzle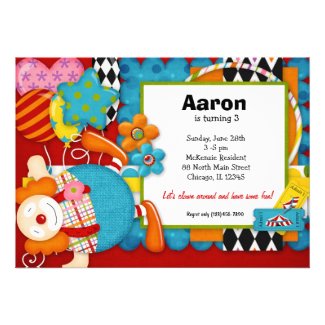 Birthday Clown Announcements
by
graphicdesign
Look for more
cheap invitations
at zazzle.com
Birthday Clown Bear, Fourth Birthday Invitation
by
StarStock
Check out more Birthday party Invitations at
Zazzle