Hocus Pocus, Open Sesame, and Abracadabra! *Poof*....nothing! I was hoping by uttering those magical phrases that my blog post would write itself. Oh well, back to the drawing board. I guess I'll just have to do it the old fashioned way.
Magic is well, magical. Even though as adults we realize a magician employs a multitude of "hands faster than the eye" tricks of the trade, we are still surprised and impressed by a great magician's talents. What is even more spectacular, is the reaction of children to a magic trick. For them, magic is well, still magical.
Magic themed parties are an amazing way to celebrate a birthday. First off, most theme parties are easier to plan for because you have a central idea that you can organize everything around. Here are just a handful of examples of what you might want for a magic themed party:Top Hat and Bunny cake, magic themed decorations, magic themed games, a costume for the kids, and hire a magician who not only does trick, but can also make balloon animals for the kids. Maybe even ask the magician if he will teach your child a trick or perform a trick with them. It will definitely be a memory that will last them a lifetime.
The best way to kick off any event is with a thoughtful invitation. Invitations not only make your guests feel special and pass along important information (such as date, time, location) but they also build excitement and anticipation for the big event. Below are some customizable, magical birthday party invitations that are sure to impress your guests.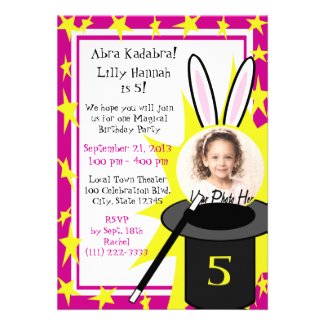 Magic Me Birthday Pink Personalized Invite
by
familynfun
Shop for
custom invites
at Zazzle
Ethnic Boys Magic Theme Birthday Invitation
by
mousearte
See more Magic Invitations at
zazzle.com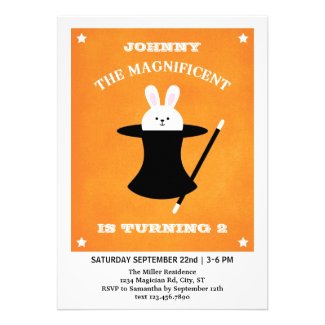 Magician Birthday Party Invitation
by
marlenedesigner
See more Magician Invitations at
zazzle.com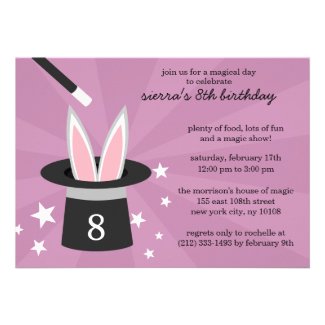 Lilac Peek-a-Boo Rabbit Custom Magic Birthday Part Personalized Invites
by
MaddisonLane
Shop for Magic Invitations online at
Zazzle.com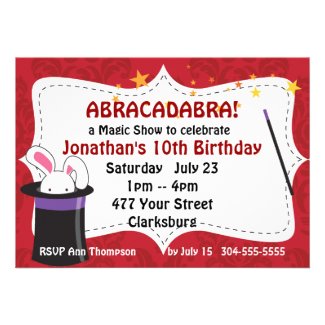 Abracadabra Magic Show Custom Invites
by
wingding
See other
online invitations
from zazzle.com.