"I feel the need for speed!" shouted Tom Cruise as he reminded us all about the thrills of race cars in that movie about racing, the title of which I forget and I'm too lazy right now to Google it. Hey, cut me some slack, I haven't even finished my first coffee yet!
Okay, I finished my first coffee and the name of the movie is "Days of Thunder".
Racing, in one form or another, has always been a part of most cultures. Racing cars in North America probably started 5 seconds after the world's second car was built and two stubborn men wanted to see which one was faster. LOL. Whatever you think of racing, it's hard to deny there is something thrilling about the power and harrowing speeds achieved while these brave men and women race around a track for hours at a time.
If your kids are fans of racing, why not throw them a racing themed birthday party. A couple suggestions would be to have a party at the local Go-Kart, complete with a race car cake. Or you could have it at home, buy an electric race car set, and have your kids and their friends compete in their own NASCAR or Formula 1 racing tournament. Or do the same with remote control race cars. There are so many great things you can do with this theme.
A great way to start any birthday party off on the right "track" (pun intended), is by sending out invitations ahead of time. Invitations are a fantastic way to inform your guests of important details, such as date and time, as well as, build anticipation for the party. Below are some awesome, customizable race car birthday invitations that are sure to get your guests "revved up" for some birthday celebrations!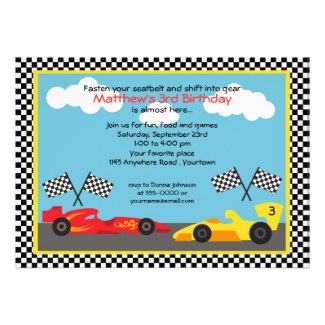 Red and Yellow Race Car Birthday Party Announcement
by
mousearte
Find other Race cars Invitations at
zazzle.com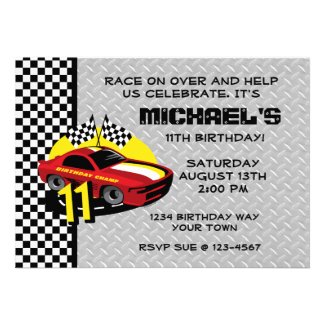 Race Car 11th Birthday Party Invitation
by
pinkinkart
Shop for Race car Invitations online at
Zazzle.com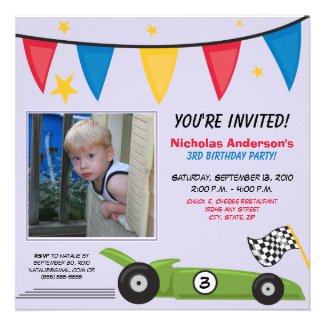 Race Car Custom Birthday Party Invitation (lilac)
by
BeezKneez
Look at more Race cars Invitations at
zazzle
Girl's Go Kart Birthday Party Invitation,
by
paperdotz
Make your own
printed invitations online
.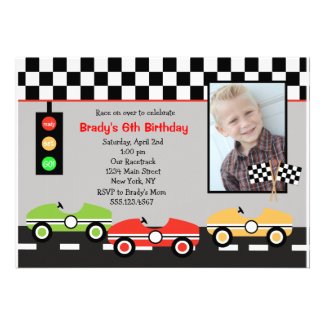 Race Car Racecar Brithday Boys Birthday Invitation
by
seasidepapercompany
View other
Race Invitations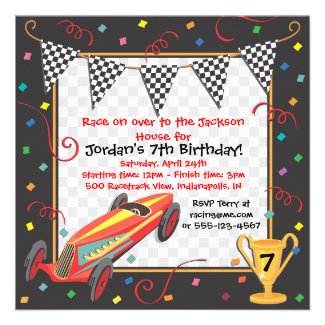 Retro Race Car Birthday Party Invitation
by
McBooboo
Shop for
announcements
on zazzle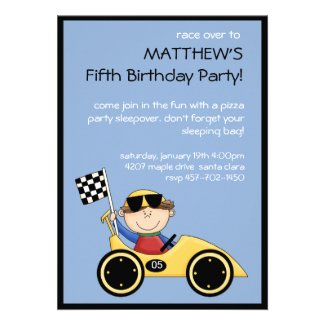 Race Car Birthday Invitation
by
eventfulcards
See more Racecar Invitations at
zazzle.com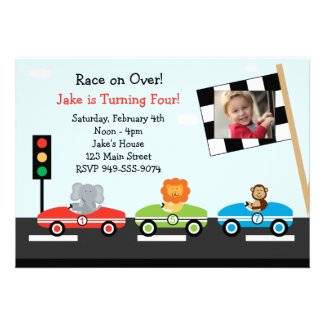 Race Car Birthday Party Invitation
by
eventfulcards
Design unique
personalized invitations
at zazzle.com
Race Car Birthday Invitation
by
babyworld
Look at more Race Invitations at
zazzle