Is there a little engine conductor living in your house? In the morning are they a regular child and by the time the afternoon rolls around they are driving a train bound for the town of Make Believe? Is this train two inches tall and runs on a circular track? I'm only asking because I'm jealous and miss my old train set. LOL. Unfortunately the picture below is not my old train set but thought I'd post it because I think it's pretty neat.
I really did have an electric train set and it never failed to marvel me. It is one of my favorite "toys" of all time. What is it about miniature things that are so much fun? Since the invention of video games, train sets have lost a little bit of "steam", but I assure you, most children are pretty excited when they see those tiny engines chugging and choo-choo'ing along those little tracks.
Now if your wee ones are anything like I was and think trains are the bees knees, then consider throwing them a train themed birthday party. Themed birthday parties are a fun way to celebrate a special occasion. They also make it a lot easier on the party planner to organize the event. Not only are you able to focus all your party ideas around a central theme, but you also don't have to worry about trying to tie together multiple ideas, such as cake design, decorations, games, costumes, etc. The best way to get the party started before it actually gets started is by sending out invitations. Invitations are the perfect way to get your guests excited about the party and "on track" with important details such as date, time, and address. And yes, I do hope you notice the "steam" and "on track" puns...I do work very hard at squeezing bad wordplay into most of my posts. :D
Below are some cute, customizable, train inspired birthday invitations that are sure to impress your guests and create a buzz for your upcoming party.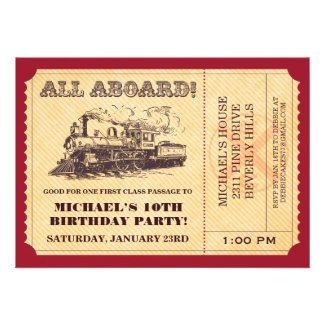 Train Ticket Invitations
by
UniqueInvites
Design your own invites
using zazzle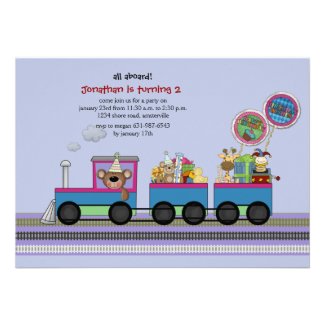 Toddler's Express Invitation
by
PixiePrints
Make invitations
on zazzle.com
Toy Train Photo Birthday Invitation
by
mousearte
Look at more Train Invitations at
zazzle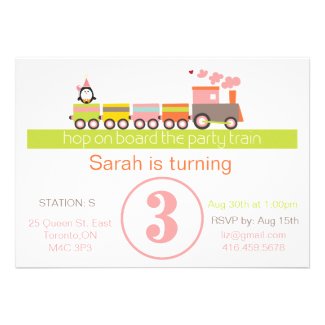 3rd Birthday (Girl) Train Invitation
by
sweettoothstudio
Browse other
3rd Invitations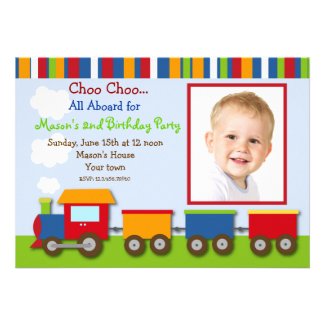 Choo Choo Train Photo Birthday Party Invitations
by
LittleSeiraStudio
Find other Trains Invitations at
zazzle.com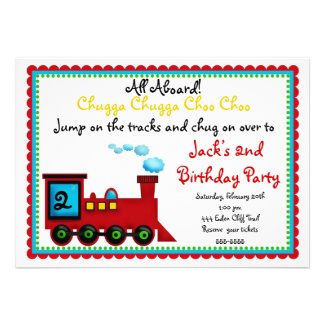 Train Invitations, Choo Choo
by
LittlebeaneBoutique
Get
quick invitations
online at Zazzle.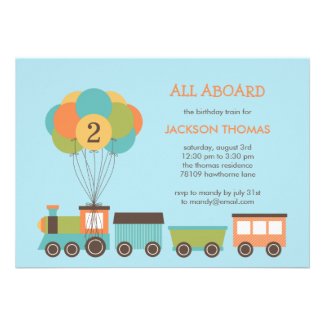 Birthday Train Birthday Party Invitation
by
itsowlgood
Get the best in
invitation printing
online at Zazzle.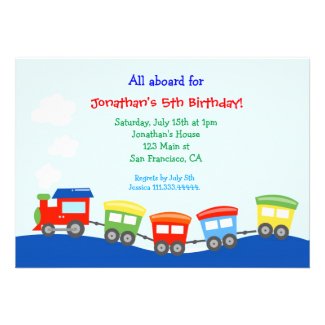 Train Birthday party Invitation
by
Petit_Prints
Browse other
Choo Invitations