Is your little boy or girl a techie in the making? Instead of playing with GI Joes and Barbies, they spend their time with Robots, gears, and building blocks? Do they teach you how to use computer programs? If you said yes to any of those questions, then consider throwing them a Robot themed birthday party.
Kids love theme parties because it showcases some of their favorite things and allows them to do fun activities like dress up, play games, and indulge in the stuff they love to do. Parents love theme parties because they are super easy to plan for...plus they get to have a bit of fun too! Themed parties are easy because you don't have to meld together a bunch of different ideas, but instead get to base all your party's needs on one central theme. For example, with a robot themed party you can bake or buy a robot cake, have the kids dress up like robots, buy some craft supplies and have a robot building "contest" (where everyone is a winner!), decorate the house in a sci-fi theme, convert traditional games into robot games - like make the kids walk like robots for musical chairs. The list really goes on and on of what you can do with a creative theme like robots.
The best way to start any party off right is by mailing out proper invitations. A nice invite is a great way to make your guests feel special, build anticipation, create excitement, as well as, pass along important information about the birthday party - such as theme, time, date, and location. Below are some really fun, customizable, robot themed birthday party invitations that are sure to get your guests all "geared" up for the big event.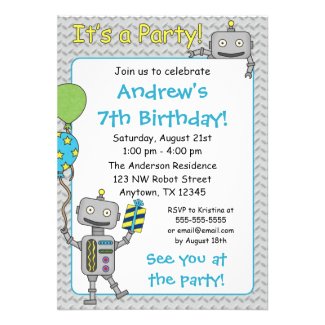 Robot Birthday Party Invitations
by
WhimsicalPrintStudio
Check out more Robot Invitations at
Zazzle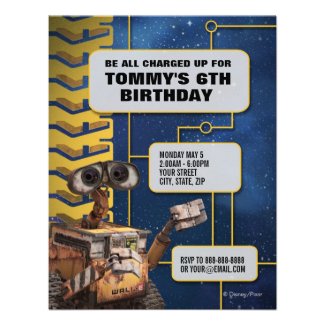 WALL-E Birthday Invitation
by
disney
Design
blank invitations
online at zazzle.com
Cute Robot Birthday Custom Invitations
by
LizaPhoenix
Make an invite online
at zazzle.com
Rocking Little Robots Party Invitation
by
scruffshop
View Robots Invitations online at
zazzle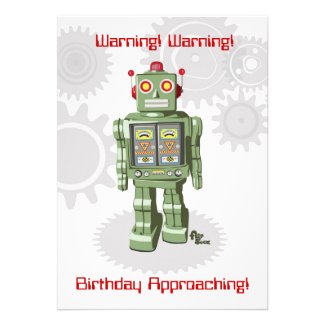 Robot Birthday Invitation
by
flopsock
Check out more Robot Invitations at
Zazzle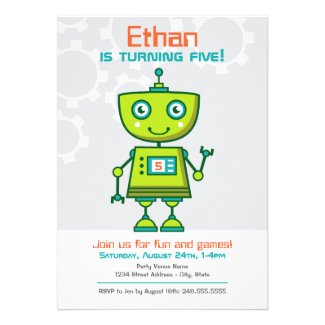 Birthday Party Invitation | Boy's Robot Theme
by
Plush_Paper
Browse Kids Invitations online at
Zazzle.com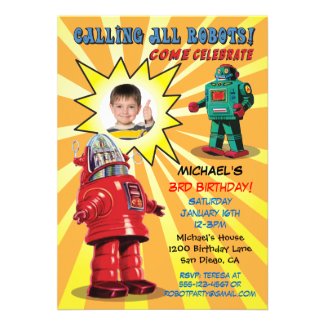 Robot Birthday Party Photo Insert Invitation
by
McBooboo
Check out other
invitation templates
at zazzle.com