Does everyone know your child has the "it factor"? Have they always dreamed of being on the big screen or on Broadway? Or are they just a big fan of those who marvel us with their movie magic? If so, consider throwing them a "Hollywood" or movie themed birthday party.
I fall into the category of loving films but being one of the worst actors to ever grace this planet. Which means I often find myself having weekend movie nights instead of painting the town red. Nothing beats getting together with some friends and watching a bunch of films, especially if the films tie in together or you pair it with dinner. Like mob night films and pasta, or kung-fu films and chinese food. That's why movie themed birthday parties are a blast. You literally have thousands of ideas already created that you can choose from. Shrek Birthdays with green ogre snacks - like green dyed popcorn and lime soda. Or Superhero movies with "hero" sandwiches and dressing up like your favorite superhero. The list goes on and on. Or if your child is an actor, you can have them perform a monologue or have the kids put on a talent show. Even though I'm an awful actor, as kids we used to love to do some sort of skit, especially at summer camp so don't worry about the skill level of the kids because the goal is simple - to have fun! And as you probably noticed, theme parties make it so much easier to plan for a party because you can base all your decisions around a central theme instead of trying to throw together a mish-mash of ideas.
Sending out invitations ahead of time is a fantastic way of getting the party started well ahead of the actual date. It makes the guest feel special, passes along important information (such as date, time, location), and also builds anticipation for the big day. After receiving a thoughtful invitation, your guests will be excited for the party to begin. Below are some customizable, marvelous movie star/movie night birthday invitations which are sure to start the party off on the right foot.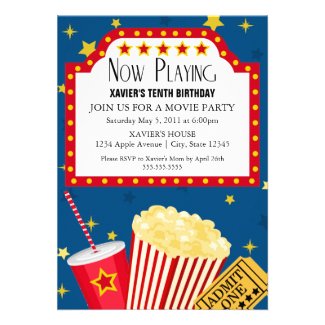 5x7 Movie Party Invite
by
ohbabypaperie
Shop for
announcements
on zazzle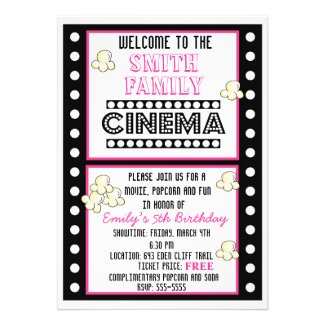 Movie Night Film Strip Popcorn Birthday Invitation
by
LittlebeaneBoutique
Find more Birthday Invitations at
Zazzle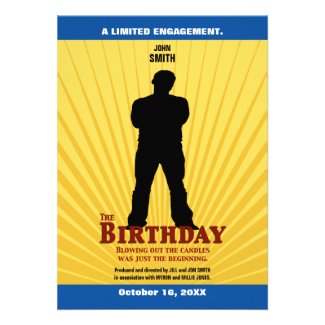 The Birthday Movie Invitation (Boy)
by
livandsophie
Check out Birthday Invitations online at
zazzle
Hollywood Star Invite
by
TreasureTheMoments
Shop for Hollywood star Invitations online at
Zazzle.com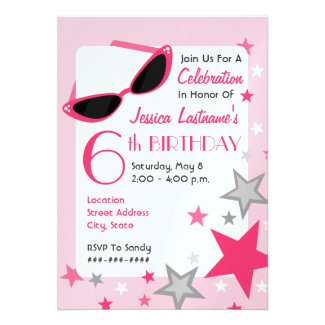 Movie Star Pink Sunglasses & Stars Girl's Birthday Custom Invite
by
JillsPaperie
Shop for
invitations and announcements
on Zazzle.com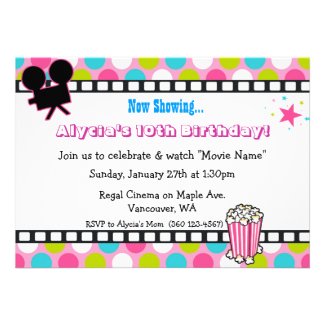 Movie Star Birthday Card
by
SERENITYnFAITH
Check out Pink Invitations online at
zazzle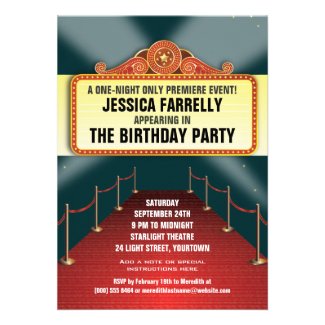 Theatre Marquee Party Invites
by
starstreamdesign
View other
custom printed invitations
at zazzle.com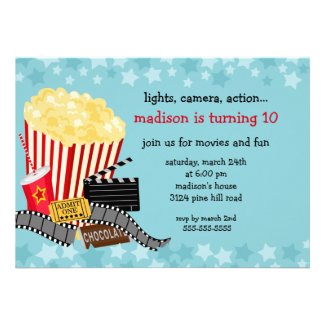 Movie Birthday Party Invitation
by
celebrateitinvites
Create your own
custom invites
at Zazzle.com
Hollywood Party Invitation - Birthday or Any Time
by
bnuteproductions
Design invites
online with zazzle