With great pride I can tell you that once upon a time, I was not just your average blogger, I was in fact the world's greatest superhero. Like most superheroes, my incredible powers have faded as I got older, but as a child I possessed every known superpower. I could fly, shoot laser beams from either my eyes, finger tips, or a superpower staff - aka, old broomstick. Actually, I could shoot just about anything I wanted out of my hands, sometimes I would freeze things, sometimes light them on fire, or sometimes, if I was in a rush, I would just get down to business and shoot a death ray. And should a bad guy get lucky and by sheer fluke, hurt me, I would just use my incredible super healing powers to fix my wounds. Gosh I miss those days! Now standing up after sitting too long seems like a superpower LOL.
Since kids love superheroes, for their next birthday throw them a superhero themed party. Kids will jump (or fly if they are already superheroes) at the opportunity to dress up like their favorite superhero, or, let their imagination run wild and help them create their own unique superhero costume. You'd be amazed at how much fun a child can have with a blanket cape and some glitter. Also, themed parties are a great way to organize your ideas and makes it easier to pick out decorations, games, and food.
The best way to get a superhero party started off with a ZAP! BANG! POW! is by sending out birthday invitations. Not only does an invitation inform guests of important details such as date, location, and time, but a good invitation also helps build excitement for the big event. Also, in the case of a themed party, it lets the guests know that they are expected to dress up and participate in on the action. Below are some awesome, customizable birthday party invitations that are sure to impress your guests.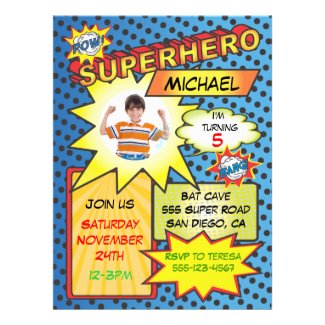 Comic Book Superhero Photo Insert Birthday Party Custom Invitation
by
McBooboo
Check out other Comic book superhero Invitations at
zazzle.com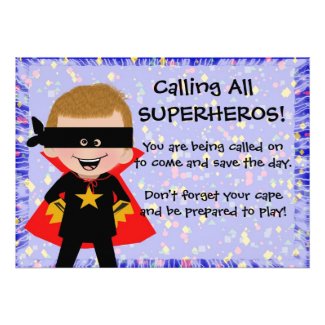 Superhero Invitation
by
kidsinvitations
Design an invite online
with zazzle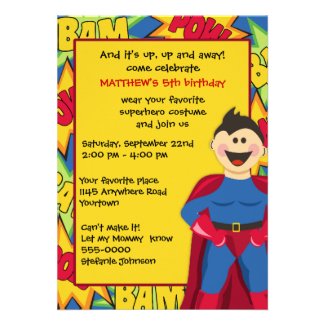 Superhero Birthday Party Invitation
by
mousearte
Look at Superhero party Invitations online at
Zazzle.com
Vintage Comic Book Strip Super Hero Party Invite
by
Pip_Gerard
Look at other Superhero Invitations at
zazzle.com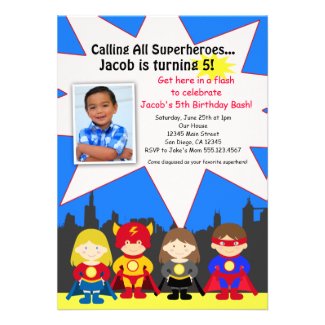 Superhero Birthday Party Photo Invitation
by
seasidepapercompany
Create an invitation online
with zazzle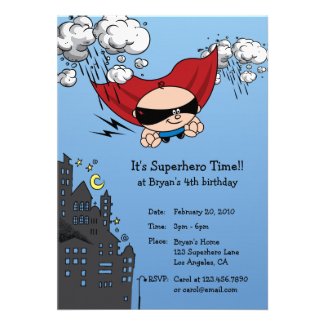 Superhero Birthday Party Invitation Card
by
mistyqe
Create unique
customized invitations
on zazzle.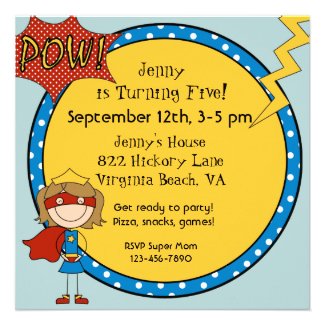 Custom Brunette Girl Super Hero Birthday Invites
by
kids_birthdays
See other
online invitations
from zazzle.com.