By the title you may think I'm speaking of women's equality and the famous saying of the 70's, but no, I am talking about the Nerd movement. Hi, my name is Flippity Trippity and I am a nerd. I enjoy board games, Star Wars movies, trivia (both useful and useless), cartoons, documentaries, and often I speak in obscure references to express my thoughts or feelings.
In the eighties nerds were portrayed as spectacle wearing geniuses who knew only of the opposite sex via medical journals and longed to be friends with the in-crowd. Many of you might remember the film, "Revenge of the Nerds" as a footnote to what I've just mentioned. Not much has changed since. Nerds are hardly portrayed in a favorable light but all of that is hogwash. Sure there are a few stereotypical "nerds" who live up to such a portrayal, but most of us are semi-normal people carrying on semi-normal lives, which is by most accounts, quite normal. In fact, nerds are so normal that you might even be a nerd yourself and not even know it. And if you don't know if you are a nerd or not, there are ways of finding out. Here are a few signs that might indicate you already are, or are one your way to becoming a nerd.
1. Dialogue
You and your coworkers are discussing a movie or show around the water cooler and you make a reference towards Star Wars, history, or scientific/social theory into the conversation. Furthermore, your go-to grub shirt or drinking at home alone shirt, celebrates something "nerdy".
Example (a) - yes, nerds tell you when they are about to give examples, such as a shirt with a physics equation.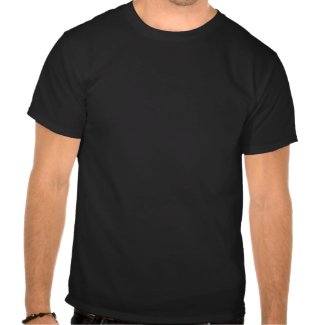 physics - it's the sudden deceleration that kills
by
strk3
Use Zazzle's
shirt designer
Example (b) - a classic obscure reference shirt, such as Monty Python's Holy Grail
velocity of unladen swallow
by
menaus2
Join Zazzle's
clothing affiliate program
2. Movies
A lot of people don't realize the type of movie a person watches says a lot about who they are, or who they are not, or who they want to be. Which basically means, what you watch could or could not indicate who you are. I guess they aren't really a solid litmus test for anything so how about we just say, nerds usually gravitate towards certain movies. Star Wars and Star Trek are obvious ones, but did you know you might be a nerd if you like:
Monty Python and the Holy Grail
Any self respecting nerd covets their Holy Grail. How can you not love a movie that has "coconut" horses, a killer bunny rabbit, and a musical number so powerful it inspired the Broadway play "Spamalot"?
Being John Malkovich
If you know who Charlie Kaufman is, you are a nerd. If you know most of John Cusack and John Malkovich's movies, then again, you are a nerd. But if you don't love this movie, then you are a fool. I mean come'on! Cusack finds a portal into Malkovich's mind and uses him like a puppet...and that's only the beginning. This movie is funny, bizzare, and mind blowingly great. I'm not even a Cameron Diaz fan but I loved her in this film. Brilliant from top to bottom.
Lastly, one of the unsuspecting ways of telling if you are a nerd or not are board games. If in fact you do play games that come from a box and do not require the use of a television set or electricity, you may be a nerd. However, if your game of choice only requires a cup, ping-pong ball and beer, then don't worry, you are not a nerd - just an alcoholic.
Scattergories
Scrabble is the obvious choice of nerdy game players, but I also love this wordy game. If you've never played, the skinny is this - a die is rolled to choose a letter and you have to come up with as many "x" lettered words for various categories before time runs out to score points.
Risk
True hardcore nerds will go for Axis and Allies, but more moderately afflicted nerds will have a copy of Risk laying around for impromptu weekend gatherings. World domination is the name of the game. Alliances are made, alliances are broken, and in the end it's a great way to spend a few hours with some friends.
There you have it, a handful of Nerd-i-cators to decide if you are or aren't a Nerd. Regardless of what you are, Nerd or not, enjoy your life and appreciate everyone around you.